C.A.R.S
Classic and muscle car restorations and modifications
C.A.R.S Custom Auto Service Repair Services started in 2006 after gaining more than 25 years experience in restoring and modifying cars.
C.A.R.S specialises in restoring and modifying Australian and American muscle cars and classic cars. Steve, the owner, has a passion for muscle cars, modified street cars and classic cars. He puts a lot of pride and effort into every project – each car he works on he treats as though it were his own so the level of pride and effort that goes into every project ensures perfection.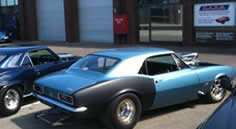 At C.A.R.S every customer is given the time, effort and guidance that is required to achieve their desired outcome.
At C.A.R.S we take pride in the standards we are able to achieve, and the fact that customers return with new projects as well as referring family, friends and colleagues to our workshop is testament to this.
You can see more information on the services we offer on the relevant pages or click on our gallery page to view examples of some of our previous projects.
Feel free to give us a call today for more information.
We offer the following services at our Lonsdale workshop -
Muscle Car Modifications
RH Drive Conversions
Car Restorations
Stainless Steel Moulding repairs and polishing
Mini Tubs and fabrication
Rust Repairs and Metal Finishing